Accessible Zoom with a Screen Reader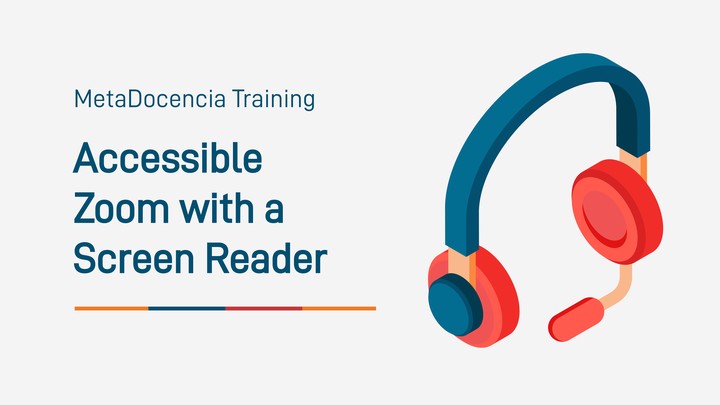 This workshop will be offered in Spanish. Dates and registration form (in Spanish)
Table of Contents
Objectives
In this workshop we will be learning how to use Zoom with the NVDA screen reader. We recommend to watch this 5 minute video that explains how to download and install the screen reader.
Download and install NVDA 👉 https://nvda.es/descargas/descarga-de-nvda/
At the end of this workshop, those who complete it will be able to:
Modify Zoom shortcut settings.
Use the Zoom and NVDA tools simultaneously.
Use the full functionality of the Zoom tool during a synchronous meeting.
Intended public of this course
This workshop is oriented to people with visual impairment and teachers of persons with visual impairment.
Attendees should know how to join a Zoom meeting and install the NVDA screen reader Video walkthrough for downloading and installing NVDA prior to the workshop: https://youtu.be/jaOp891hAnY
Check out personas to read more about them.
How to participate
This workshop will be offered in Spanish. Dates and registration form (in Spanish).
The workshop is free. Those invited to the workshop agree to abide by our code of conduct.
Duration
This is a 2-hour workshop with 5 to 10 minutes break every 50 minutes.
Schedule
We will start by showing the Zoom tool shortcuts before launching a meeting. We will continue showing the shortcuts within a meeting from the most used to the most general. We will detail the functionality of each shortcut allowing live training.
Course materials (in Spanish)
Do you want to re-use any of our contents? Please, be our guest!
Our materials are available for free under this license. You can reuse or edit any material that appears here, the only thing we ask in return is that when you reuse our materials you include a reference to this website. For further information, contact us at cursos@metadocencia.org.